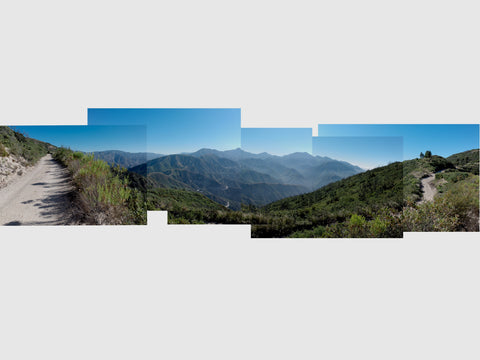 Mt. Lukens Gravel Ride
Back in June of this year I had recently built up a Crust Romanceur Canti Edition.  With the stoke of a new bike and the unfamiliarity with how it could handle the rougher terrain, I was curious to see how it would ride especially being a low trail bike.  I built this rig up with a vintage vibe in mind (friction downtube shifting and old Mafac cantilever brakes) expressing my inner Ultraromanceur persona.  It was an early morning and it was set out to be a beautiful day.  
I took off from the garage and headed down Foothill Blvd towards HWY 2 to head up towards the fire station where I'd take a gander into the steep gravel roads of the ANF.  


Once you pass this gate, the grades are pretty steep.  Get your low end gear ready cause you will need it.  I've got a 44/28 chainring combo on the front with a 11-36T cassette in the back.  I had no idea if that was good enough for me, but it was really perfect.  The last time I did a portion of this route was when I rode the Los Angeles Invitational sponsored by the Cub House in Pasadena.  This time around, it felt much more chill and the vibes I created for myself came correct.
After a few miles of climbing, you sort of regret and question why you were doing this ride in the first place.  But as soon as you look up and towards the right, you get to see some majestic views of the Angeles National Forest.  Something about some winding roads in a photo gives me all the feels. 
Feels.
Once you get to the top (for some an hour later for others a few hours) you see this green building.  I dunno why but I like this green.  It makes me feel rich.
Soak it in.
Here's the rig in all of it's glory at the top of Mt. Lukens.  Fitted with some Outer Shell bags, Team Dream Bottles, and a Stussy sunglass case for my tool roll.  Overall the bike did pretty damn good.  I will say if there would could be one improvement, it'd be my brake levers.  I have some vintage Dia-compe levers that seem to be pretty harsh while descending the rough road heading into Haines Canyon.  It's a pretty rocky trail and with canti brakes, I was putting a lot of force on the levers.  I'm sure if I test out some other more modern TRP levers, it'd be a lot more comfy.  All in all I'm super impressed and this means this bike can tackle a lot of variety here in Los Angeles.  
I was kitted in my all time favorite pair of shorts which were named after this mountain.  The Lukens Short:
These shorts here are something that I've personally been testing and wearing for over a year now.  Paired with the Brooks Imperial (cut out version) saddle I have, it's been super comfortable.  It's been comfy on all my saddles for that matter.  I recommend trying these shorts out for yourself.  We've dialed these in to perfection (IMHO) and so far, it seems to be a crowd favorite.